Unfortunately I will not be able to comment live during the swearing in. If ET or Jonathan can comment that would be welcomed of course.
Oh and ain't it sad the Vice President wrenched his back moving out? Honestly I was shocked. I didn't know he had a spine.
Edit From The Count

WASHINGTON (CNN) -- Sen. Ted Kennedy, D-Massachusetts, collapsed Tuesday afternoon during a luncheon held for President Barack Obama in the Capitol's Statuary Hall.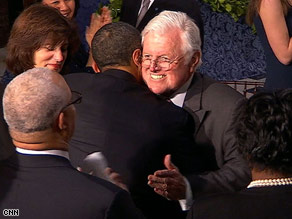 President Obama greets Sen. Kennedy at the luncheon in the Capitol.