Random thoughts...
I suspect that we may be the only two people who read this blog who care about Brett Favre Jonathan but I voted :)
Speaking of Favre Any man who can't spell his last name. :)
And does he pay the media to blow him or do they pay him for the pleasure?
Molly Qerim makes ESPN'S College Football Live almost watchable. Mark May makes sure it still isn't.
My least favorite...Bird...the Blue Jay. My favorite bird...Larry.
Why is the guy in the Cox Telephone ad bragging that he changed his wife phone service for their anniversary. And does he really think that is a good gift?
How starving do you have to be to except a role in a ED commercial?
Thank God Canada is only independent from the United Kingdom in name only. I got the centenary Ian Fleming novels with the (girl covers) from Amazon Canada for a fraction of what Amazon UK would have cost.
Oh and I have to thank W as well. For being such a shitty President that the Canadian Dollar and the American Dollar are pretty much of equal value.
And Thank you to the guy on CB.net for telling me to get the books from Amazon Canada and save the money. not only that I didn't have to wait for 2 years to get them. I was able to collect them in 3 months.
Why do the packages from Amazon Canada come with 6 sheets all saying that what was in the box wasn't going to make me a terrorist? Wouldn't one or two sheets do the trick?
And who buys their hydrogen from Amazon.ca?
What the fuck is an Uffy?
Why are weatherman the biggest douches on the planet?
Am I asking a large amount of questions?
I miss MLP and Yakki and the others. I hope that they are doing fine.
Oh this is an open thread. Pop in say hi, fuck you, Viva La France...whatever.
Late Edit. One Last Thing. If I had a million dollars... I would give it away to anybody who would deck this son of a bitch...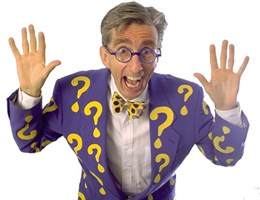 Another late edit, this time from Jonathan: I wish I had a million dollars to pay someone to knock this worthless fuck's jaw out....
God, I hate Dane Cook....unfunny douchebag.