Sure, this comes month late, but I want to honor the best 10 movies that came from the previous decade; the ones that stayed with me, even today. These are the best of what filmmaking offered us, the ones that mattered.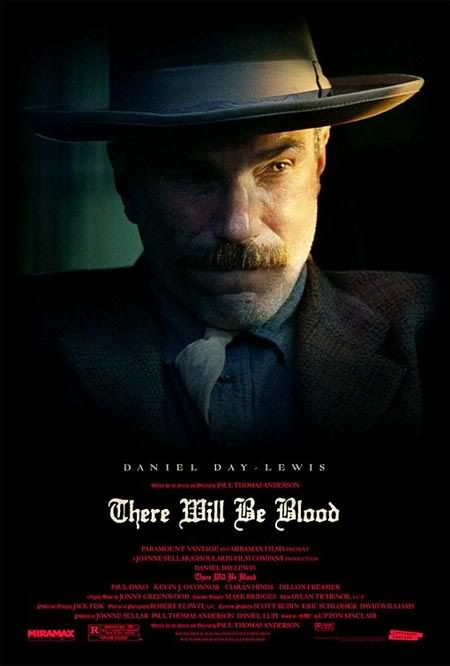 1.
There Will Be Blood
- The first 15 minutes of this explosive and chilling meditation on family, faith, and greed, we see Daniel Plainview (Daniel Day-Lewis in a performance for the ages) risking life and limb for silver in a mine shaft out in the West. He finds what his heart seeks, but not before busting his leg, leaving him a limp for life. As the saying goes, "what doesn't kill you, makes you stronger," and in Plainview's case, it only intensifies his lust for power, and the depths he is prepared to go to achieve his ends. His need for power is matched buy three obstacles: his 10 year-old adopted son, H.W. (an excellent Dillon Freasier), a charismatic, fundamentalist preacher, Eli Sunday (Paul Dano matching beat for beat with Day-Lewis), and his own hatred of humanity. In the film's breathtaking and bold 30 minutes, he has his vengeance on all three. Anderson, with his uncompromising vision of America at the turn of the century, has crafted a modern epic that meditates on the dark side of strike-it-rich capitalists, or - if you want to extend the metaphor - the true face of it.
2.
Spirited Away
- Even the wizards at Pixar Animation Studios call director-writer Hayao Miayzaki the true master of animation. One look at his visually stunning and bittersweet tale of growing up, masked in an re-telling of
Alice In Wonderland
, will have you in agreement. Of all the animated movies to come around,
Spirited Away
is the one that stuck with me most, and made me truly fall in love with the power of filmmaking. 9 year-old Chirio becomes trapped in the spirit world after her parents take a detour en route to their new home, and turn into pigs after mom and dad obliviously eat from the food of the spirits. Her only hope of returning home and rescuing her parents is to do hard labor for Yubaba, the owner of the bathhouse for the weary spirits. The use of hand-drawn animation (with splashes of computer animation thrown in) and composer Joe Hisashi's luscious and haunting score are mated in a graceful and beautiful waltz, each serving to flawless storytelling and Miayzaki's world of pure imagination.
3.
Babel
- Mexican director Alejandro Gonzalez-Inarritu shot this ensemble drama in various locations across the globe: from the deserts of Morrocco, to the San Diego-Tijuana border, to the metropolis of neon that is Tokyo, Japan; in five different languages (including sign language); all covered in a the modern-day age of social networking and terrorism, to showcase humanity's failure to communicate with one another. Explaining the plot and the characters are too complex and complicated to explain, and that's what Inarritu is going for: he wants the audience to look past the story and begin to listen to what's going on underneath the surface. Brad Pitt, Cate Blanchette, and Adriana Barraza are all top-notch, but the film's grieving heart is centerd in Rinko Kikuichi, a deaf Japanese teenager who uses sex to bury the pain of losing her mother who committed suicide. Watching her, naked on the balcony of her house was she stares down the busy neon lights of the city, is quietly devastating.
4.
Children Of Men
- Alfonso Cuaron's sequence in the car where Theo (a career-best by Clive Owen), a dissillusioned theocrat helps smuggle a young African refugee (Claire-Hope Ashiety) out of the decaying United Kingdom with help from his separated wife, Julia (the great Julianne Moore), only to be ambushed by an angry mob, is a breathtaking sequence, which sets the tone for this bleak and hopeful dystopian sci-fi thriller that seems a little too close to the present day: its 2027, women have been infertile for almost 18 years, and almost all of civilization across the world has fallen into chaos. It's a hopeless future, with different clashes of ethnic, religious, and political groups fight for what's left of a crumbling world, and Cuaron works miracles to shine a dim light on a future that's lost all hope to save themselves.
5.
The Lord of the Rings Trilogy
- If it's cheating that i'm combining
The Fellowship of the Ring
,
The Two Towers
, and
The Return of the King
, then so be it. Yes, they are three separate movies, but if you add all three masterpieces together, you have one 9 1/2 hour story that redefines what an epic can - and should - be. Credit director/co-producer and screenwriter Peter Jackson for bringing J.R.R. Tolkien's fantasy novels vividly to life, combining explosive and visually arresting storytelling and textbook themes of umparalled bravery, unimagionable sacrifice, and the deepest bonds of friendship and compassion in the face of an unspeakable evil in the dark lord Sauron, attempting to capture the One Ring and, with it, destroy the world of Middle-Earth, and actors Elija Wood as Frodo Baggins, Sean Astin as Samwise Gamtree, Frodo's loyal companion, Viggo Mortenson and Aragorn, the heir to the King of Gondor, and Sir Ian McKellen as the wizard Gandalf.