V

S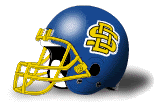 What to Look for:
Ok let's be honest here. If Nebraska were somehow to lose this game it would be an upset of embarrassing and monumental proportion. If Nebraska shows up and just plays an OK game they win by 40. So the only thing really to look for is whether or not players get injured.
Can SD State score before Nebraska puts in the 4th string?
One non Nebraska Cornhuskers mention because this game should really be a rout...and a really big rout at that.
Just got back from Rosenblatt Stadium and the opening game of Omaha's UFL franchise the Nighthawks. Omaha beat Hartford 27-26 as 60 year old Jeff Garcia threw a TD pass to Robert Furgusen with 6 seconds left in the game. I had an absolute blast as did my Nephew. I know the shelf life for these leagues isn't long and I don't suspect UFL will be much different. I do hope that somehow this thing lasts a few years It really is a fun product.