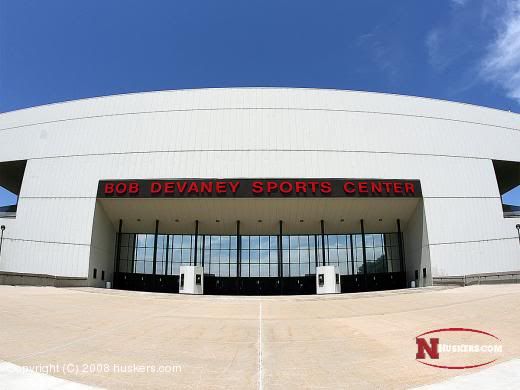 Built on the back of cigarette smokers the "Nebraska sports center" opened in 1976 and at the time was one of the spiffiest joints in the Big 8. a few years later the name changed to Bob Devaney Sports Center after the football coach and Athletic Director who worked so hard to get the building built. For most of the 34 years the Devaney has played host to Nebraska basketball it's been a tough out for opponents even in years when Nebraska was less than great...or even good. Nebraska has never had a losing season in the building although in later years that fact has been trumped up by many a visit from South Carolina Upstate and the Presbyterian Blue Hose.
I have many a great memory of the old building. The trick especially when a Prairie View A&M or some other such ruddy poo school came to town is to buy General Admission seats where nobody would be with in a mile of you. If you actually wanted to watch the game you moved down to a chair backed seat of which there were still several available. If you just wanted to be alone or talk to your companion there was no better place than the Bob. I took the future Contessa to a game in 2003 against Arizona State and we sat in the G.A. And just had a good 2 hour conversation with no-one with in sight to bother us.
I've been to 2 Kansas games and they couldn't have been more different. When Kansas comes to town the Bob is packed with Kansas folk it's the opposite of what their football stadium used to be when we played down there. The first time Kansas won by 30 and I took my glasses off because I couldn't tell what was going on on the court with them off. The second time we upset Kansas by 19 and I was standing on a chair screaming with joy. I've gone to games and had somebody walk up to me and ask if I needed a ticket handed me theirs for free after I said yes. I have seen men and women in the G.A. having more than conversations with each other and more than one hot poker game. You didn't see this shit at Memorial Stadium.
Lord knows there's been some bad basketball played at the "Bob" but it was a great place and it will be missed however it's time had passed. several years they had to close it to remove asbestos, it needed a major face lift it was getting as ramshackled as the basketball being played on it's court. It's time for a new arena which is why I am so glad Lancaster county voted to approve the new arena. The truth is Lincoln also needed a new Arena. The Pershing Center struggled to seat 7,000 people if you crowded the floor and couldn't attract any major attractions Council Bluffs with a 4th of Lincoln's population has a much nicer arena as does Sioux City which is less than 1/2 the size of Lincoln. Now with the passage of the vote Lincoln get's it's much needed new arena to attract major acts and UNL it's major anchor get's it new Basketball arena.
The Devaney center will not be tore down which I am really grateful for. Track and swimming meets will still be held there. Also it will be used as a separate practice facility for basketball making Nebraska the last school in the Big XII for them to have a separate practice facility. Just in time for them to join the Big 10 :)