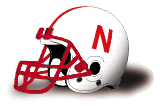 V
S
What to look for.
Do Texas A&M 's efforts to have a large enthusiastic fan base present at the game succeed in creating a hostile environment or just cause yet another team to play as if they were spent before the game started?
Does Nebraska's defense continue to play as they played last week?
Is Taylor Martinez 100 %? or 90%?
Is Ryan Tanneyhill for real?
Since Zac Taylor is on the A&M staff is it also wrong to root for Nebraska in this game as well?
If Nebraska should win by any score will their fans finally stop bitching non stop and show some respect and love for this team?