Vs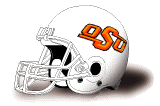 Going to Stillwater in the Afternoon so posting this a day early.
What to look for.
Will Nebraska be over last weeks tough loss?
How much of OSU's record is built on their level of competition?
Can Nebraska continue their strong play on the road?
Can OSU's passing game work against Nebraska's secondary?
Will Taylor Martinez and the Wide receivers bounce back again?