41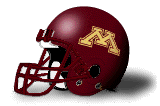 14
Really not a whole lot to comment about this game. Nebraska had a job to do and they did it. Really nice to see them come out against a weaker opponent and put the game away early. This game was over early in the 2nd quarter. Hell you could argue it was over from the opening kickoff. Nebraska lead 34-0 at halftime and then spent the second half as a glorified scrimmage. That along with lots of backups seeing action kept the score down and allowed Minnesota to brag they outscored Nebraska 14-7 in the second half. Though as the Minneapolis Star Tribune pointed out Nebraska could have scored 70 points had they so chosen.
Weather was about perfect sunny and 65. TCF Bank stadium was built in 2009 and is a great stadium an extremely nice facility. It is not large at 50,000 seats give or take but it has all the bells and whistles of a larger NFL type facility. Also Minnesota does a great job with parking. Park at the State fairgrounds in Minneapolis for $10 and take a bus to and from the stadium. They drop you off right at the front of the stadium. After the game they had several buses waiting to take you back. First class and first rate all the way. Unfortunately the same can;t be said for their football team which is quit frankly God awful. You know you aren't very good when you struggle all day to get the snap back to the Quarterback.
No more freebies left for Nebraska. Michigan State comes to town next week and of course that is FAR from a sure thing. Michigan State is a very very VERY good ball club. Home games against Northwestern and Iowa appear to be the easy games remaining on the schedule and they aren't what you would call easy. Both teams are much better than Minnesota.
All in all a very good weekend for the Big Red.