Lots of groovy stuff today and tonight. Yes I said Groovy.
Really rooting for Wyoming in the New Mexico Bowl because their fans were great. Really the best visiting team fans I have ever interacted with. But right now Temple is kicking their ass 14-0 and getting ready to score again. Hope Wyoming can turn this around. Uh my TV just shut off on it's own.
Nice prevent defense there by Wyoming to allow a 65 yard touchdown pass with 30 seconds left in the half. 28-7 Temple at half. Wyoming leaving some nice Christmas turds on the field.
37-15 Temple final score. Real disappointed in Wyoming today. Now it's almost time for Frank's boys to play.
Nebraska sleeps their way through the first 35 minutes before pulling away from Alcorn State 60-46 in the final 5. And...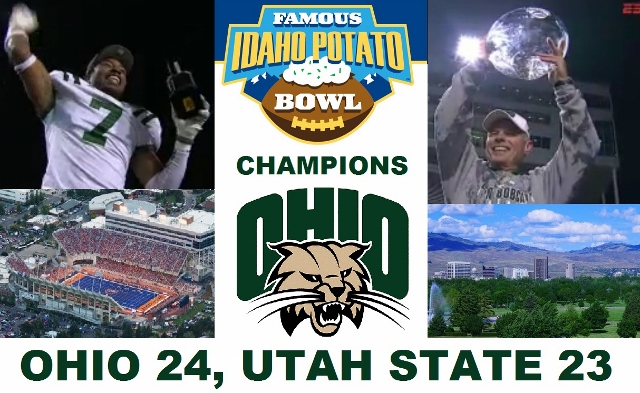 Congratulations To The Ohio Bobcats and Frank Solich on the schools first ever bowl victory!
Sounds like Carl Froch got skull fucked. Break out the big book of British boxing fans excuses. It's located next to the big book of Mexican boxing fans excuses.
In a game with some of the worst special teams play I have ever seen not to mention some of the worst center play, Louisiana Lafayette defeats San Diego State 32-30 on a last second 50 yard field goal. The kick was originally 55 yards (and would have been good from there) but SDSU was penalized 5 yards for illegal stemming (shouting signals to make the other team jump off) It's almost never called but it was pretty obvious on replay.
So what have we learned? 2 of the 3 bowls played today were down to the wire entertainers. Too few bowls? Pish Posh! We need more of the things!
And is there anybody who still believes either Boise State or TCU belongs in a BCS game?
Oh yeah the Dallas beat Tampa Bay 31-15. So Romo is a God this week.
A get well soon to Celtic Guard Jeff Green who was found to have an aortic aneurism. Thankfully they found it in the physical and he will have heart surgery but is expected to be 100% next season. Obviously he'll miss this season. Had they not found it in the Physical it would have a tragic disaster.