V
S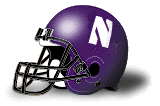 Northwestern had lost 5 games in a row before beating Sad sack Indiana last week 59-38 and yet they are seen as a bit of a "live" dog in today's game with Nebraska. Is the fear in some Nebraska fans hearts that this could be a much tougher game than expected real or imagined? Let's take a look at both sides of the argument.
Reasons this could be a tough game for Nebraska:
Northwestern has an explosive spread offense that gives the defense all sorts of quirky looks and depends upon a mobile QB who can also pass well. Dan Persa is just that sort of QB. he's fast with his feet and accurate with his arm. He's the kind of QB and this is the kind of offense that traditionally has given gives Nebraska defenses fits. The back up QB Kain Coulter is an offensive playmaker at 3 different positions. QB, RB and WR
Northwestern is well coached and seldom loses a game badly. This is true. Northwestern doesn't lose 58-10. They usually hang tough and fail to have enough man power to get the job done in the 4th quarter.
Reasons This Could Be An Easy Nebraska Win:
Persa is NOT as mobile as he was last year before he got hurt and Coulter can not throw the football. A QB who can't do both well is much easier for Nebraska to defend.
Nebraska's defense which was shockingly in adequate for much of the season has looked like the defense that was expected the last 2 1/2 games. Ohio State, Minnesota and Michigan State are not Northwestern on offense but they aren't bad either and in the last 10 quarters of football those teams got almost nothing on offense against Nebraska's main players
Northwestern's defense is more bad than their offense is good. This is a biggie. Northwestern's defense is just brutal and not in a good way. Last week against sorry Indiana they gave up 38 points and over 400 yards. They haven't stopped anybody.
Yes they play hard, yes they are well coached but overall Northwestern just isn't very good. OK there were tough loses to Michigan, Iowa and Penn State in that 5 game stretch where Northwestern hung in the game until the 4th quarter but there was also a loss to Army!...Army! It would take the kind of performance from Northwestern that they haven't shown all year. Are they capable of such a performance?
What Do I Think Will Happen
I am one of those people who saw this game as a nightmare style for Nebraska and one in which they would be tested and challenged all game long. The combinations of factors I have touched on, mainly Nebraska's improving defense and Northwestern's terrible defense leads me to think this game will not be as close as first feared. Northwestern will have their moments and put some points on the board. They are just too good offensively not to. But Nebraska will have many more moments and many more points. I see this in the neighborhood of 52-24 for Nebraska.