V
S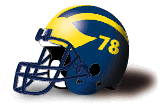 Game 11 where has the football season gone?
There is a lot to suggest a Michigan win here.
Nebraska is coming off a tough emotional win last week.
Back to back road games
Michigan has a QB that is built to give Nebraska fits
And last but not least Michigan is pretty damn good.
And yet I am not willing to write off this game by a long shot. Should be a fun game
BTW If you notice the posts from a lonely little troll it's just Bob looking for somebody to be his friend. Don't respond I'll erase them on sight.