V
S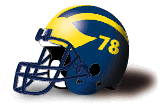 In 2005 when these teams met in the Alamo Bowl it was suppose to settle the 1997 national championship debate (Yeah I don't get that either) But Nebraska won 32-28 and the national media didn't like that answer so the 2011 game in Ann Arbor settled the 1997 national championship debate. Michigan won 45-17 which was much better for the media and somehow proved Michigan was the better team in 1997. (Yeah I don't get that either.) Last year Nebraska won 23-9 but that didn't count because Denard Robinson got hurt nevermind that Taylor Martinez played injured and Rex Burckhead, Nebraskas best player was also injured.
Despite what you may have heard from the media both local and national on both teams these teams are both 6-2 not 0-8. Michigan is favored which makes sense. If I had to pick a spread I'd favor Michigan as well. But I am not sure what is in Michigan that makes Nebraska fan think they can't win or even compete in this game. Was it those killer victories over UCONN and Akron? Maybe they are just so down on their own team they're hoping they get blown out. You'd hope not but this is Nebraska fan we are talking about.
Call this a hunch or call me a homer...Nebraska wins and does so in surprisingly easy fashion...
Count's Krystal Bawl...
Nebraska 31
Michigan 17