V
S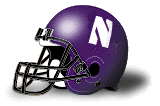 It's not hyperbole to call this the biggest game of the Bo Pelini era. Win this game and there is still a chance albeit a shrinking one that both his job and the season can be saved. Lose this game and both are all but over. Northwestern is beat up. Mentally and Physically. They've lost four games in a row since giving Ohio State hell four weeks ago. But Kain Colter who has given Nebraska fits the last 2 years is getting healthier and after the last two years, a Northwestern win in Lincoln, and a one point Nebraska victory in Evanston there is no reason for Northwestern to believe they can't win this game.
Nebraska is going with Tommy Armstrong and Ron Kellogg III at QB this should make the world's greatest fans happy. No matter that Armstrong threw 3 Interceptions and looked in over his head against a Purdue team not as good as this Northwestern bunch. So long as he's not named Taylor Martinez it's all good for the worlds greatest.
And about the world's greatest fans? If things start badly will they turn, or should I say act pretty much like the usually do, and begin to boo, mock and ridicule their own team? We all stick together you know... in all kinds of weather...
hahahahahahaha
. No worries though win or lose they'll cheer the team at the end of the game...Northwestern can count on it. Through these gates!
Count's Krystal Bawl
Nebraska 31
Northwestern 28