V
S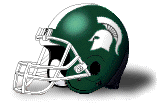 Stop me if you've heard this before. Nebraska is playing a team from the state of Michigan and nobody expects them to win the game. There hasn't been a situation like this since...well last week.
Michigan State have never beaten Nebraska. in 1995 in Nick Saban's first game as a head coach they lost 50-10 in East Lancing. The Next year in a game that was nearly statistically even they lost 55-14 in Lincoln thanks to about 15 defensive and special teams scores by Nebraska. In Bo Pelini's first game as a head coach, albeit an interim one, Nebraska beat Michigan State 17-3 in the 2003 Alamo Bowl.
In 2011 everybody picked Michigan State and Nebraska won 24-3. That was because Michigan State had 3 hard games in a row.
In 2012 everybody picked Michigan State and Nebraska won 28-24. That was because of the refs.
In 2013 everybody is picking Michigan State. Should Nebraska win again what will the excuse be this year? It is fun watching little Lee Barfknecht's hopes get up only to get destroyed every year.
I do want to clear up one possible myth. The myth that the winner of this game has the division wrapped up. That is true if Michigan State wins. Well technically it isn't. MSU could lose out and Minnesota could win out. And technically I could have a date after the game with Univison personality Lourdes Stephen after the game. But they won't and I don't. However should Nebraska win there is still work to be done. The game next week at Penn State is no sure thing and should Nebraska stumble bum around the day after Thanksgiving they also could lose to Iowa.
This just feels like Nebraska-Michigan State III Return Of The Same... And it's in Lincoln where the cold weather could be a factor...OK it's suppose to be 62 at kickoff so scratch that!
Count's Krystal Bawl
Nebraska
17
Michigan State 10