V
S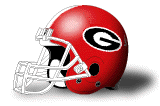 Happy New Years! Well for Nebraska fan it's not been the happiest...on the field anyway. Still for all of the lows, injuries and controversy there's Nebraska playing in a New Years day bowl. A particularly good one? maybe not and yes so is North Texas and UNLV. Still there have been some fine moments. The hail mary the wins over Michigan and Penn State that only became average wins after Nebraska won them...before that they were games Nebraska had no hope of wining.
Look on paper Georgia is the better, more talented team. But these games aren't played on paper. Human action involves human emotion. And emotions are hard to read in a bowl game. Georgia has a QB playing his second game ever. Nebraska has a QB with little more experience. Will either team be excited to play this game? Especially Georgia who has sent players home and has been hit by the flu. In other words there is a shot for Nebraska to end the 2013-2014 with a 9-4 record and a nice memory. Last year Georgia was much better than Nebraska and didn't put them away until late in the game and this year in the rematch nobody wants the difference isn't as stark.
This is the last chance to root for Nebraska football until the summer, well not counting the spring game in April so even though I know it goes counter against everything Nebraska fan believes in they might as well get behind the team and believe.
Count's Krystal Bawl
Nebraska 31
Georgia 24